I'm passionate about bringing small business owners and their customers together.
Welcome to Little Town Marketing! We understand the struggle that small businesses face when trying to stand out in a vast and competitive world. That's why we're here to lend you a helping hand.
Founded in 2015, my journey actually began when I started designing websites in 2000. Throughout the years, I've had the pleasure of working with numerous businesses in various industries. But my heart will always belong to my hometown of Wabash, IN – the first electrically lit city in the world. Although I now call Avon my home, I never forget where I came from.
I've had some exciting moments along the way, like when a famous Hollywood celebrity stumbled upon a website I built while searching for insurance for his avocado farm. This unexpected encounter led to even more high-profile clients.
In between helping businesses thrive, my husband and I have a passion for traveling. From mystical Burtnieki in Latvia to vibrant Budapest in Hungary, and bustling Berlin in Germany, we've explored some remarkable "B" destinations. And, as avid collectors, we can't resist acquiring Art Deco nudes and flower frogs, Navajo weavings and pottery, Penland artisan pottery, and pretty rocks.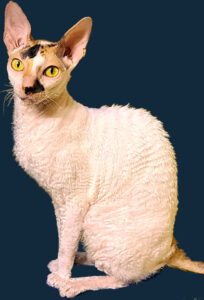 Of course, no office is complete without a furry companion. Meet Mia, our beloved Cornish Rex cat and honorary co-worker. She enjoys joining in on virtual meetings, bringing a touch of feline charm to every encounter.
When I'm not busy helping businesses shine, you'll find me pursuing my other passions. I love working out and pushing my limits with heavy weights – my impressive leg press record stands at a jaw-dropping 1200 pounds! gas Additionally, I find joy in painting, finger-crocheting, and indulging in all things creative. And if you're interested, I'd be delighted to tell you about our custom doors!
At Little Town Marketing, I take immense pride in my work. Rest assured, I have the knowledge, experience, and wisdom to turn your website dreams into reality. Whether you're looking for an informative platform or a robust e-commerce site, I'll get the job done efficiently and effectively.

The Little Town Marketing Wizard
We are here to help others help others
DeAnne has been a close mentor of mine for years and I owe much of my success to our relationship. DeAnne is someone who knows the value of people and truly believes we are here to help others help others. Her ability to manage chaos is second to none. Operations, marketing, web design, leadership, etc. you name it.
DeAnne is someone who is able to over deliver on any task while still somehow keeping the team engaged and stimulated – fostering an environment where people actually want to be… a place where people can learn and grow both professionally and personally. Her energy and positive outlook/perspective is contagious.
The best part about working with DeAnne is that you know when you show up, she's showing up with you – day in and day out – and you're leaving a better person every time.
– Cody Beeks, Team Leader, Client Experience Operations. Rocket Mortgage
Incredible Knowledge
DeAnne has an incredible knowledge of how to make websites effective and user-friendly.  She managed the Rotary District (6540) website during my tenure as District Governor
– Steve Van Scoilk, –President, Holmes Insurance Agency, Inc
Valuable Asset!
I was fortunate enough to work with DeAnne on a Billboard Campaign project. From brainstorming to completion, DeAnne kept the project on-task and offered creative input that produced a beautiful end result.
DeAnne's understanding of technologies also amazed me. Her firm grasp on tools such as graphic design and web development as well as an overall keen marketing sense makes her a truly valuable asset to her company and those around her.
–Arrick Garringer, Marketing & Development
My Highest Praise!
 DeAnne does what she says she'll do and she does it promptly and efficiently. I definitely like my updated website and her marketing efforts have resulted in qualified leads.
–Troy Smith, Owner, Espresso Enterprises
Exactly what we envisioned!
Little Town Marketing and DeAnne came highly recommended. After trying unsuccessfully to update our website, we found out that the program that was used to create it was practically obsolete and making changes was difficult even for the company that initially built the site. That is when we found DeAnne. She asked for ideas and examples of what we wanted and kept us updated all through the process. We are very pleased, as a small nonprofit, in both the price and personal effort that was put into our new website. It is exactly what we envisioned!

– Becky Arnett, Executive Director, Wabash Habitat for Humanity 
She creates calm out of chaos
During the past three years, I have had the pleasure of working with DeAnne Clifton. Her skills at website creation, analytics, customer service, and creating calm and order out of pure chaos are second to none. My confidence in working with DeAnne has been so strong that she now works on a second project I am involved on a much larger scale. The members of my team absolutely love working with DeAnne and she operates as a member of our team with the same level of drive for success. It just doesn't get any better! Providing a recommendation for her is truly a privilege.

– Theresa Brandon, President, National Service Animals Monument Corporation, & Central Indiana Canine Association, Inc. 
Problem Solver
Give DeAnne a problem to solve and she will not only fix it she will make it better. I worked with DeAnne for a number of years and watched her get the specialty programs at our agency up and running full speed. The program maintenance and keeping up with current social media trends made her invaluable. Her creative personality and out of the box thinking makes her a natural for marketing.
I would recommend DeAnne for any company interested in growing their potential and as a bonus they get to cap the positive energy she brings to the workplace.
– Karen Huntington, Commercial Service Specialist, Hylant, Fort Wayne
She's a wizard!
DeAnne is a wizard when it comes to mastering the world of chaos and social media frenzy. Design and marketing strategies are her forte. I have sought DeAnne's council on past sensitive Human Resource issues and she offered confidential guidance. She's an ace; an all-around executive-level professional.
– Christine Flohr, –Executive Director, Visit Wabash County

I'm so glad I found DeAnne!  If you want to actually ENJOY working with someone, she's your person.  She's extremely responsive and great at communication, wonderful with clients, and knows her way around WordPress and all related technical things. 
– Katie Thompson, –Owner, Pinecoast Creative
Look No Further. Get Started Today